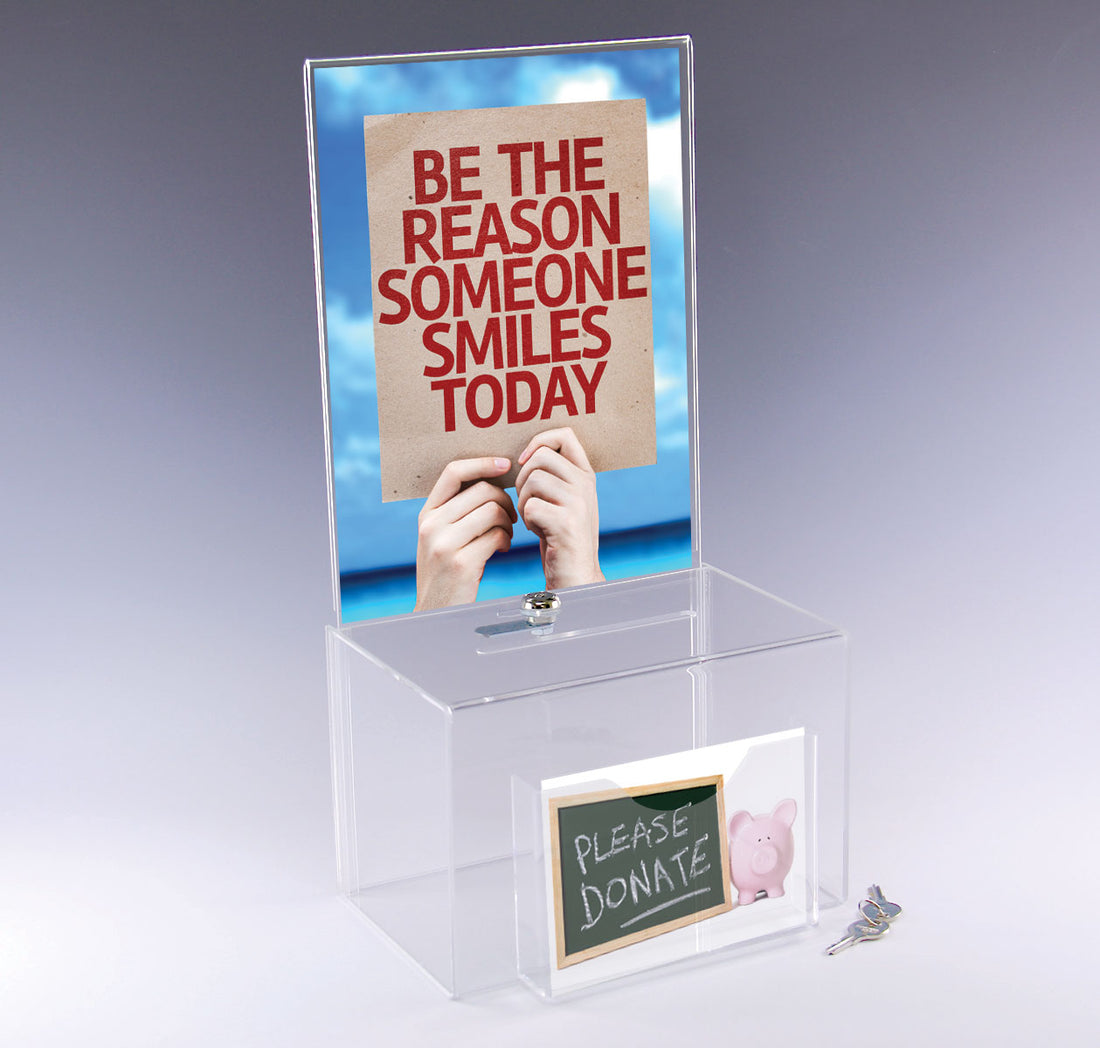 How to maximize Donations with the right Donation Boxes
When it comes to fundraising, the line between success and failure just might be in a box…the Donation Box you choose for filling. Of course, you'll have more than one involved and that means there are choices to make. Here are the factors to consider for your fundraising success.
Strategic location and the quantity of boxes you need for maximum visibility are probably the first areas for consideration. Start with your mapped out area, including local vendors and common areas throughout your communities where you're partnered for display purposes. Determine foot traffic and how it relates to Donation Box visibility. Don't overlook the finer details here…OR where each is located when it comes time to collect. Basic, right?
Next, how to draw the eye and encourage patron generosity. That's where size, style, function, and customization make a real difference. You can take a closer look at dimensions in Small and Large Donation Boxes in our catalog and gauge the capacity you need per location accordingly. A 6-3/8" Wide Donation Box with a Lock (Style PBS02CS) may be ideal for heavily trafficked areas. Less traffic and smaller counter space? A clear 5-3/8" Coin Box (Style PMBSC5H) could be a better fit. Mixing and matching gives you added flexibility.
When acrylic Donation Boxes begin to fill, there's a natural inclination for others to contribute. But sometimes security has to take precedence. Alternatives like Smoked Acrylic help keep Donation Box contents relatively concealed in areas where theft is most likely to occur…yet the smoky aesthetic appeal helps keep its attractive allure. Think of it as style meeting function: appealing to the eye yet secure, especially Style PBS03CS. This 6-1/4" Donation Box has a bottom lock that stays out of sight and adds to the security of your campaign.
And this leads us to perhaps the most important attraction of your fundraiser: the name, mission, and goal of your cause itself. A hand-written tag and a piece of tape just doesn't get it. A polished, customized look tells donors they're giving to a valid, bona fide organization…one where they can feel good knowing that their money's going where you say it will. Our past work with reputable charitable organizations like Goodwill, the American Heart Association, and the United Way is a prime example.
Incorporating your name, logo, and/or slogan with customized acrylic Donation Boxes goes hand-in-hand with success, as has been the case for years with those groups just mentioned. Screen printing directly from your e-file can be applied to Donation Box Headers that stand above the coin box area. Again, you can get a better idea of dimensions with a quick look. Style PMBSC7H exemplifies a Donation Box with Postcard Header approach and space for 6" x 4" worth of graphics. Or go tall and narrow with a Suggestion Box style and a Header (PBS07H) that gives more of an obelisk appearance. There are several options and the boost to your fundraising appeal will definitely pay off!
If you're organizing a shorter term or limited time campaign, PPM can help guide you to the right section of Donation Boxes. Taking a charity event on the road? Sturdy acrylic Donation Box styles are geared for mobility. And if you're more interested in gathering feedback than dollars? Yes, the reliable Donation Box gives you an economical alternative as a Suggestion Box. The results are in!