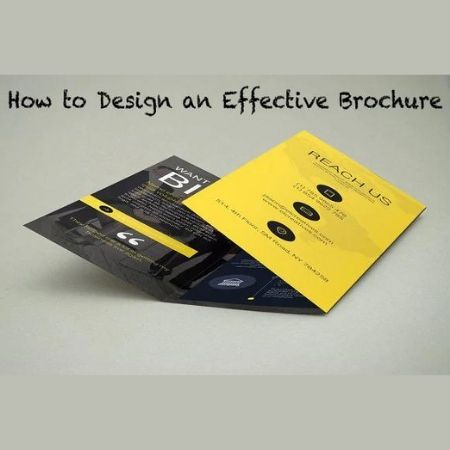 How to Design an Effective Brochure
Time to give your promotional literature a fresh new look and not sure where to start?  Maybe we can help you cut through a few hang-ups and provide some tips for inspiration!
Assess or RE-assess who's looking!
Whether you're trying to design an effective brochure for the first time or replace outdated material, consider who's likely to read it.  Know your demographic!  Shifts in buying patterns and trends affect numerous industries.  Furniture buyers, for example, are now likely to be Millennials.  Gear your message, branding, pictures, and graphics accordingly.
   2. What's your Brochure's function and how does it fit your Marketing Plan?
Be realistic about your brochure and where it can be most effective.  A Point-of-Purchase (POP) display is great for cross-promoting items to customers already committed to buying from you!  There are "leave-behind" brochures for meetings and trade shows, geared more for prospects.  Also consider the need for brochures to send in response to inquiries and in direct mail campaigns.
   3. HOW are your Brochures displayed?
Brochure effectiveness and disbursement also requires the right display.  You can attract the eye with a Clear Acrylic Trifold Brochure Holder and the dual arcs on either side of its base.
   4. KISS
Keep It Simple, Stupid!  Don't make your copy sound like a legal document.  Instead, speak to customers personally in a conversational tone.  Express your message/benefits without making it overly "wordy."  Otherwise, readers tune out.
   5. Don't stop at one!  
If you have two to four subjects running simultaneously, give each the platform it deserves.  Then show individual brochures in a tiered 4 Pocket Plastic Brochure Rack for a clear presentation with multiple options for inquiring eyes!
   6. Call to Action
Measuring brochure effectiveness in dollars and cents?  Give your prospects a clear "call to action" so they can respond after you've inspired them.
Good luck with your layout…and don't forget to proofread!