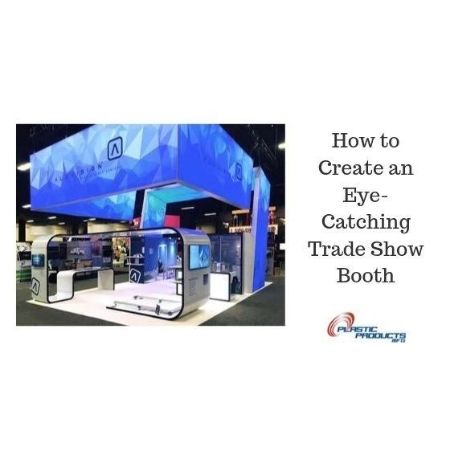 How to Create an Eye-Catching Trade Show Booth.
Do you have one or more trade shows coming up?  Looking for new ways to engage your visitors so they remember you and stay interested?  Here are some ideas to help you along.
When laying out your display, put yourself in the shoes of those you hope to attract.  Do your graphics stand out, making your brand visible and aesthetically appealing?  Give inquisitive eyes something to latch onto with color and artful design.  Integrate products, services, and giveaways with clear, concise benefits to draw qualified buyers.  Attractive signage and banners create the draw; your Brochure Holders and Sign Holders help seal the deal.
Give your trade show audience something to see, feel, and engage interactively.  A table full of documents might provide the info, but a more hands-on display can make a more significant impact immediately.  Even your Display Stands can lend a feeling of mobility, like Plastic Products Mfg's Swivel Base Sign Holders.  Style BS GG Swivel Base Acrylic Display Stands deliver movement and eye-appeal in a range of width and height options with custom sizing available.
Geometrical shapes and symmetrical design can also play a pivotal role in stopping foot traffic for a look at your operation.  Literally, think outside-the-box-shape and incorporate cylindrical displays.  Add angles and triangles.  Your signage display options can also build on that idea.  Check out the Double-Sided Sign Holder with an Oval Base, and Magnetic Slant Back Sign Holders. The A3 Magnetic Series adds a special dimension with black and tinted green options for more visual appeal.  They're also user friendly for switching promotional literature.
Another key to successful trade shows?  KISS: "Keep It Simple, Stupid."  Visually speaking, visual overload with too much signage and/or cluttered display conveys a message to keep moving.  But don't leave empty space, either.  Just make it count with fine detail and a stellar Acrylic Display or Sign Holder!