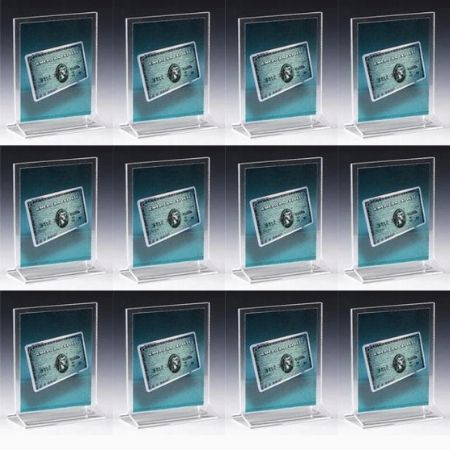 How to be a Superstar in Sales: 5 Tips
We are in the business of helping you grow with the use of our point of purchase displays. Your success is our success and with many decades of sales and marketing experience, we consider ourselves experts in the sales department. We've learned a lot by trial and error, and thought we'd share some tips with you that are proven to work when implemented correctly…tips we use time after time with great results. Isn't better when you don't have to be the guinea pig? We've done all the work for you and yes, you're very welcome! Keep in mind these tips are highly effective when combined with promotional displays like a pamphlet holder, sign holder, table signs, picture frames, and display stands, let your products or service be the spotlight. Here are the top 5 secrets to be a superstar generator of sales and leads.
 Tip #1 Be a Problem Solver
What we mean by becoming a problem solver is this. When a prospective customer asks for your help, how do you deliver solutions that meet their needs and surpass expectations? Do it right and you will have a repeat customer for life. Many people probably need your products and services without realizing it, and what you essentially want is to uncover the need. The best approach is to start with a thought provoking question, then focus on the benefits you offer and how they differentiate you from your competitors. 
Tip #2 Sell with a Strategy 
Always sell with a game plan. Having a strategy will make you accountable and help communicate effectively with your leads about specific products, services, and special offers. Build your effective selling strategy in stages. A foundation of high expectations and thorough follow-up is crucial. Research your leads so you can build a stronger rapport. People want to buy from people they like, so be helpful, informative, and genuine. It's important they feel you actually care and want to help with their needs. Show it, and be sure you follow up with them. Ask about the preferred method of contact before you do…it's a nice courtesy touch and people appreciate thoughtfulness! 
Tip #3 Share Helpful Information 
One greatly effective way to nurture a lead is to share helpful content and tips they might find useful. Your knowledge not only helps fulfill other needs your lead might have, it also plants a seed that you're the "go to" expert. You also raise your own brand awareness and can cross-promote it with videos or suggestions to subscribe to your company's blog. Send them your newsletter and connect with them through social media. This is a great way to convert leads into customers. 
Tip #4 Be Direct and Well-Written 
People have less time on their hands than ever before and as the saying goes: "time is money." Make sure you stay direct and to the point with your customers. Also, you don't want your message getting lost in the shuffle and taking valuable time. When communicating your message, convey your knowledge, respect, and willingness to help. Keep their benefits in mind, not yours. As much as possible, keep your follow-ups, proposals, estimates, and quotes in writing. Creating a paper trail (or e-paper trail via email, text, or mobile messaging apps) comes in handy for tracking purposes to reduce wait times. It's an organized way to confirm that your follow-up's been sent, delivered, and in many cases read.
Tip #5 Grow Your Network
Networking is very important. Not everyone is going to be a buyer, but by networking with them and staying in touch, you can generate referrals and cultivate leads. Grow your network and let them be your biggest promoters. Certain leads might also be glad to work with you and raise awareness through social media and by email, allowing you to connect with even more prospective customers and grow your network that much larger! 
If you found this article helpful, please take a moment and share it through social media or email. Remember two things: 1) The customer is always right and 2) Use PPM for all your POP display needs if you want the best value of course! 3) Follow us for more helpful tips and information.