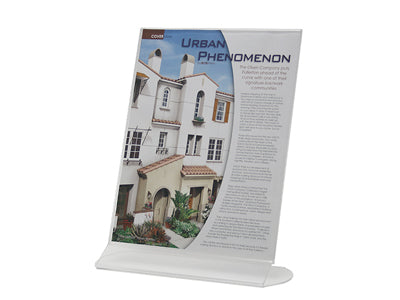 Discover ways to effectively use a Sign Holder!
Once upon a time, there was a business by the name of "Effective Company."  They were an established business and sales were steady.  But there was no substantial growth and the market changed.  New competitors had risen and started to become successful with their fresh ideas as well as by following and introducing new trends.  "Effective Company" saw how the competition became successful and started thinking about ways they needed to change in order to stay ahead.  With the noticeable market change, "Effective Company" decided it was time to stir things up and implement change if they wanted to keep up and stay in the game.  So they started researching trends and found that they could also cash in on these new trends and implement them…using them to their advantage just like their competition did.  They knew it would take some time and adjustment but once the plan came together, they realized that all "Effective Company" needed was to find a way to attract their customers and share the word on their new changes.  They did it with the help of promotional displays and found a new way to visually attract their customers and keep up with their new competitors.
So what is the takeaway from this story?  No matter what business you are in, you must stay on top of ever changing trends in order to stay competitive.  If you're a start-up company and want to grow your business…or if you are an established business looking for effective ways to advertise and attract buyers…promotional displays are a trend popularly used to get more revenue and boost traffic.
Sign Holders are Effective!   
There are different ways to effectively use a sign holder.  Let me share some really good secrets on the most sensational ways to use yours.
Restaurants can utilize sign holders or any counter top display to share their specials and promotions…using several displays simultaneously for each different purpose.
Use the "Check-in" or "Follow Us" method to attract customers into connecting with your business on social media.  Even better, offer a free grift or coupon to encourage your customers to share your business and raise brand awareness through social media.
Have a sign to let your customers know their feedback is wanted.  Encourage them to fill out a survey or comment card and have them drop it in a ballot box.  It's a perfect way to engage customers and with the plastic design, it allows them to see clearly and add visual value to attract them even more.
Trade shows are another great place to use sign holders and grab wonderful opportunities to generate leads, create more sales, and increase interest in your company.
B2B marketing.  You can use sign holders with an added business card holder to visually attract your prospective customers into picking up your information…another way to connect and distribute your message.
Maximize on these great opportunities to connect visually with you prospective customers and see how cost effective promotional displays can be.  Remember, there is no such thing as bad publicity.  Essentially what you want is to generate traffic and raise brand awareness with a great promotional display that draws crowds and encourages them to have interest in your service or product.