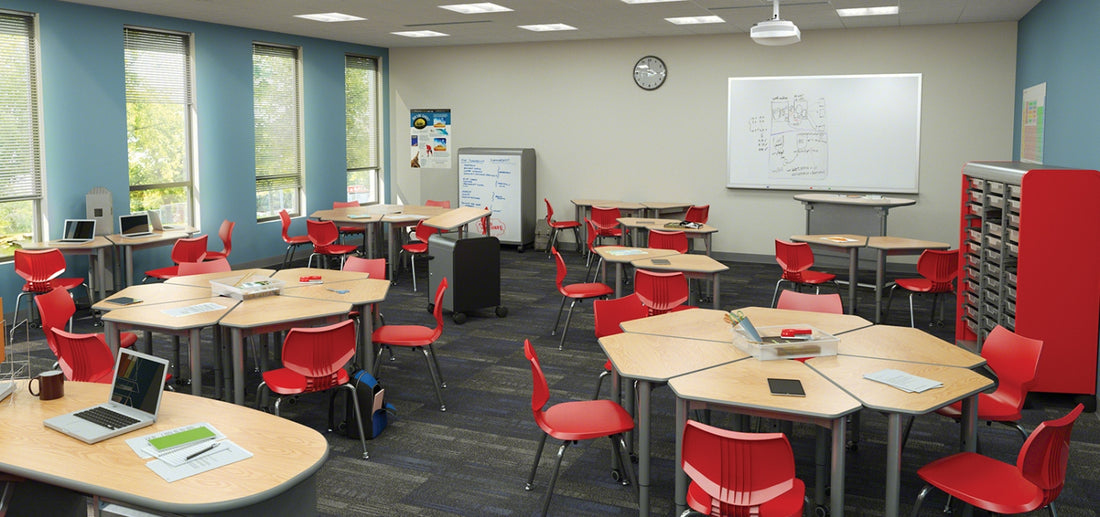 Desktop and Computer Name Plate Holders for Today's Collaborative Working, Learning, and Social Environments
From the Google campus to the college campus, work-share spaces to internet cafés, a distinctly collaborative type of environment has taken shape. Coinciding is a stronger demand for clear identification displays that stand out in a more clustered floor layout…and preferably with some aesthetic appeal to match the décor.
Interiors+Sources identified this trend toward collaborative environments in 2015 as part of the "Age of Transformation" to a "fully global 21st century." Their writing on the subject detailed a "cultural shift" beyond corporate offices and into healthcare and education markets. The challenge to designers? How to translate a collaborative approach to physical spaces. Retrofitting central communication centers and common work areas has been the result.
Schools are also experiencing the shift. Classrooms are becoming increasingly shared, collaborative spaces…no longer rows of desks all facing an instructor. The goal is to guide learning – and shared social activities – in a more comfortable, connected atmosphere.
Also adapting to shared environments are the latest in Desktop Name Plate Holders and specially designed Computer Name Plate Holders.
Attractive NPBR, NPA, and NPAA Desk Name Plate Holders have had an upgrade of their own. Now accentuated with dynamic colored border options, the classic desktop approach has a bold new look. The framing lends distinctive visibility to name/title inserts.
Finding the right fit for computer mounted Name Plate Holders has also been achieved. The development of VNPT Clear Vinyl Computer Name Plate Holders has opened a world of placement opportunities. The virtually indestructible material effectively spotlights inserts and secures tightly in place on monitors. Imagine the possibilities in shared spaces.
Such communal use of shared space is hardly a domestic phenomenon. You just might start seeing more Name Plate Holders like these around the world…after all, did you know that the Cybercafes database can guide you to 4,208 internet cafes in 141 countries?