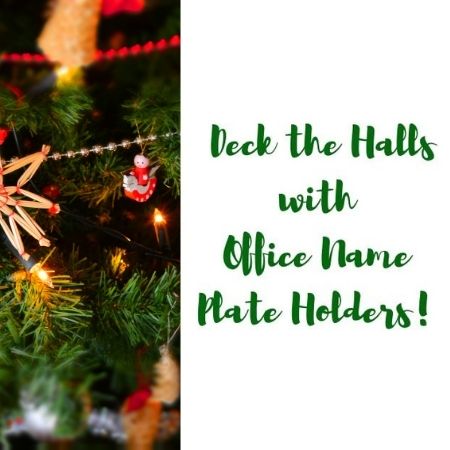 Deck the Halls with Office Name Plate Holders!
Are you ready for the holidays, both at home and in your work environment?  What's in your office this season?  Photos, decorations, a splash of color?  While you're in the spirit, consider capturing NEW colors in your office décor that will accentuate your holidays and look great even after the Christmas decorations come down.  Deck the Halls with Office Name Plate Holders!
The latest in Cubicle Nameplate Holders gives your office space a professional look that's also incredibly attractive.  Polished edges in premium thickness .092 acrylic gives passersby an attention grabbing, aesthetically appealing, and modern. Cubicle Name Plates make a great fit in a professional atmosphere, giving your floor layout a new look and attitude for 2019.  Clear acrylic catches the eye and border colors keep them focused on your message.  There are multiple possibilities for usage, from name, title, and department inserts to directional signage.  Be seen in a whole new light!
No matter what they say, inserts slide in easily…and Cubicle Nameplate Holdersthemselves are also easy to install.  Just be careful measuring partition width from the THICKEST POINTS so your Name Plates are unobstructed.
Holidays have you in a creative mode?  If you prefer designing your own name and title inserts on laser or ink jet printers, the perfect perforated card stock for the job is included FREE with standard sizes.  Let your design inspiration flow with unique fonts and graphics.
If you want to take that creativity in branding and customization to the next level, consider silk-screening and custom imprinting on your Desk or Cubicle Name Plate Holder.  Options are available with select quantity orders. Tis' the Season!