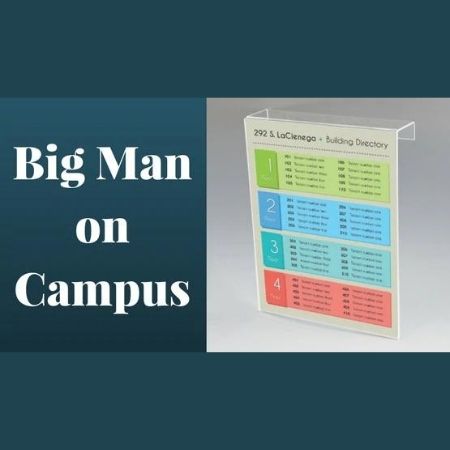 Cubicle Sign Holders…The Sign Holder Industry's New Big Man on Campus
Ever see the 1989 movie Big Man on Campus? It's a comedic take on the classic tale The Hunchback of Notre Dame, and in fact was originally titled The Hunchback of UCLA. BMOC was not a huge hit, but the "feel good" story about a misunderstood hunchback chased from his home in a UCLA campus tower has built a dedicated following years later!
The Sign Holder Industry also has a new "Big Man on Campus" that's building a dedicated following NOW! Cubicle Sign Holders, Sign Frames, Brochure Holders, Cubicle Tiered Sign Frames, not to mention the latest in Cubicle Name Plate Holders: clear premium thickness acrylic is all the rage and promises to be a hit leading off 2018!
So why all the buzz? Cubicle Sign Holders and related office display lines deliver a bounty of benefits. First, there's the crystal-clear view acrylic offers with super sharp visual acuity. They're geared to mesh with practically any professional décor and can even be custom imprinted for added aesthetic appeal and brand recognition. New Colored-Border Name Plate Holders also add a nice accent.
The 1989 Big Man on Campus is not the only cinematic effort with that title. A 1963 10-minute "educational short" by the same title told a cautionary tale about troubled adolescence through the eyes of tough-guy-awaiting-punishment Jerry. Real toughness comes in sturdy acrylic…strength that endures for years of service. From name/title inserts to directional signage, acrylic Cubicle Sign Holders and Sign Frames are built to last. Plus, these "big men" are easy to install without tools. Just be careful measuring! Partition wall width from the THICKEST points should match your order's "depth" spec.
By the way, Big Man on Campus from '89 is categorized as a comedy but early print ads had some believing it would be a horror flick. Allen Katz's hunchback "Bob" character apparently looked much more menacing than funny!