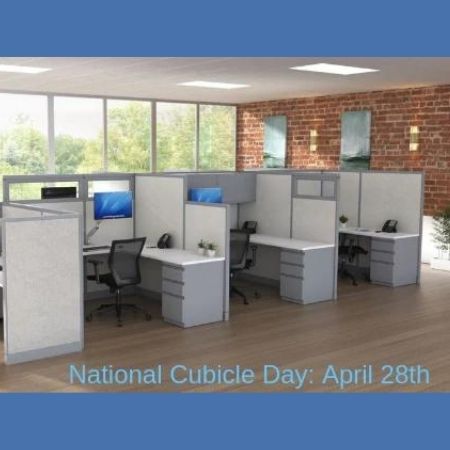 Cubicle Sign Holders, Name Plate Holders, and Brochure Holders for National Cubicle Day 2019, April 28
It's a big day at Plastic Products Mfg: National Cubicle Day. And in case you missed previous Cubicle Days, be sure to mark your calendar for this annual event, every April 28th.
2019's "Holiday" is a little extra special because we've recently unfurled an exciting new selection of Cubicle Sign Holders and Name Plate Holders with Colored Borders to give those cubicles a dynamic new look, adding a nice complement to professional décor.
But why give cubicles their own day in the first place? Good question. Office cubicle layouts have gotten their share of harsh criticism. The now cult-classic movie Office Space got a ton of laughs out of the cubicle workplace. Beyond the big screen, cubicles have also been maligned as a way to cram as many people into a smaller footprint.
The first cubicle was introduced in 1968 as an "Action Office" alternative to the open "bullpen" office style common in newsrooms and detective offices. Herman Miller's Action Office system became the world's first open-plan modular system of panels and attaching components. Designed to give flexibility in configuration(s), "Action Office" partitions were meant to give workers push-pin walls that delivered privacy…with plenty of desk space and height. Need to change the layout? Just reconfigure. That was, and continues to be, the beauty of the cubicle.
Adding more functionality and aesthetic appeal? New Cubicle Name Plate Holderswith Silver, Black, Bronze, and White Border options. Premium thickness acrylic with polished edges provides the ideal framework for custom name/title inserts. Since we're celebrating National Cubicle Day, FREE heavy-gauge card stock is included with select orders to make printing easy and economical.
On a larger scale, Cubicle Sign Holders with Borders make events and special pronouncements more vivid and appealing, perfect for 8-1/2" x 11" inserts. Clear Acrylic Cubicle Brochure Holders also showcase literature attractively, giving foot traffic a clear invitation to "grab-n-go."