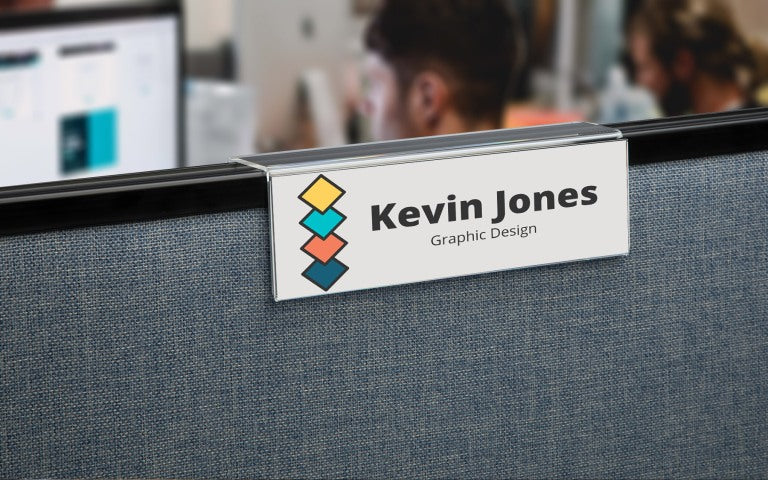 Cubicle Name Plate Holders, Sneeze Guards, and Acrylic Essentials in Post-Pandemic Office Solutions
While many in the workforce can and will continue working remotely as America adjusts to a post-COVID world, an impressive number of employees can also be found returning to the workplace and campus. While the pandemic isn't over yet, business owners, office managers, and school administrators alike have been busy adjusting workspaces to reflect the new dynamic.
Part of the shift brings back the once standard and now increasingly popular cubicle. Establishing a healthy distance between workers has the familiar cubicle floor layout making a remarkable return. Privacy in the workplace is also aiding this new demand for a cubicle barrier comeback. It also makes Acrylic Cubicle Name Plate Holders and Cubicle Sneeze Guards essential additions! 
The Coronavirus effect on open-floor workplaces has been significant. Office workers formerly in congregated settings are once again becoming accustomed to privacy…and finding new ways to showcase their identity. Enter the Cubicle Name Plate Holder, a clear way to display names and titles proudly in solid acrylic style.
Cubicle Name Plate Holders come in multiple sizes and are easy to install quickly. Colored-border options accentuate individual style preferences. Premium thickness acrylic makes each Name Plate Holder tough and resilient with clarity that draws your focus. Keeping surfaces clean and sanitary is also important and acrylic is simple to maintain.
Another bonus? Heavy-gauge card stock can be included for DIY printing of custom inserts.
Health concerns also need to be addressed in post-pandemic office solutions, especially minimizing the spread of airborne particulates. Cubicle Sneeze Guards provide an effective shield against droplets, adding an extra level of comfort for returning workers.
Are you shifting gears in your floor plan? Plastic Products Mfg has gold medal-worthy acrylic innovations for a healthier interior. And a safer, more worry-free workplace with a cubicle layout should not be without a supply of Cubicle Name Plater Holders and Cubicle Sneeze Guards!