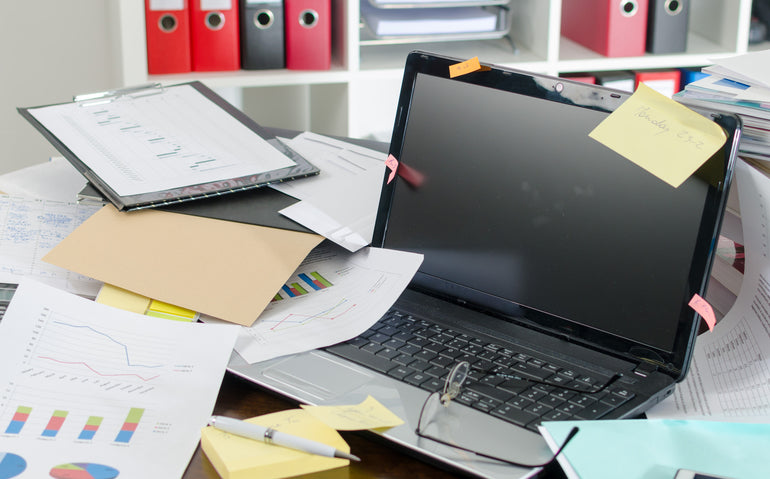 Creative Solutions to the Office Desktop Clutter Blues
Did you know that office clutter has a direct effect on individual worker's moods, morale, productivity, and even each one's overall outlook for a long-term commitment? Inc. contributor Melina Palmer and host of The Brainy Business podcast argues that the negative association between a chaotic personal workspace and the everyday grind of a difficult, trying job are all too real.
Palmer points to several simple changes that can significantly alter that negative outlook, turning conditions around for a more pleasurable work experience…and happier employees. It's part of a battle plan to fight burnout and worker fatigue.
"Priming" behaviors and attitudes become more effective with visual stimuli. Cluttered or not, favorite pictures, cards, calendars, and knickknacks deliver a sense of gratification and comfort, even subconsciously. Positive reinforcement phrases and sayings might seem corny to some but making such reminders visible does serve a psychological purpose.
Acrylic Cubicle Brochure Holders can help resolve desktop clutter issues and Name Plate Holders make a unique display option for all types of custom printed inserts. That includes inspirational sayings as well as traditional name-and-title applications. Colored Border Name Plate Holders also add a striking, stand-out look.
The Cubicle Brochure Holder is a nice alternative for organization and display purposes. The sturdy acrylic stands up to hard knocks and re-use, an easy-to-install Brochure Holder in a variety of dimensions for even the messiest desk.
Melina Palmer cited a 2015 study in the Journal of Clinical Psychology, finding that "inserting flashes of positive mental imagery in contexts that are associated with negative experiences can have a brightening effect," helping remove that sense of dread and depression at work, in other words. She also highlighted other interesting examples of "brain science," like the notion that holding an iced drink instead of a hot one can make you evaluate other people as cold and distant. Or that being in a room with a backpack instead of a briefcase makes people more cooperative. True or not, clearing out the clutter can help change the conversation in your brain!