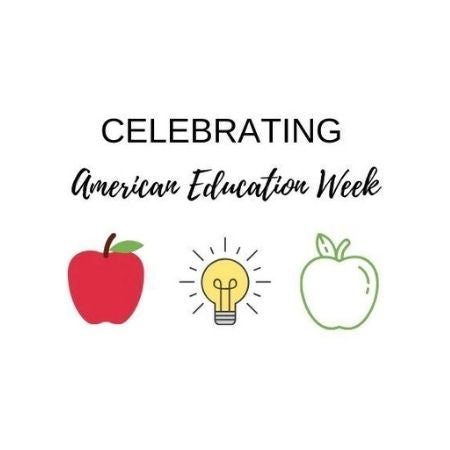 Celebrating National American Education Week!
It's been a busy Fall for students and teachers as we look forward to upcoming breaks for Thanksgiving and December's holidays before resuming the 2019-2020 school year. It's a perfect time to take stock of what's happened so far and what to expect during American Education Week, observed this time of year since 1921!
This year's American Education Week is designated for the week before Thanksgiving. Schools across the country are planning events geared to promote a stronger collaboration between parents and educators. The National Education Association (NEA) is lending a hand, providing themes that sharpen focus in areas like classroom practices, the use of technology, and goal identification.
Some schools are also encouraging students to celebrate…poster designs to band concerts and technology demonstrations. This is the ideal time to show off progress made since the school year began just weeks ago and how to best support advancement over the next few months.
What's happening at your school for American Education Week? Active participation from every angle can go a long way toward a brighter future for students and inspiration for teachers. Volunteers will no doubt be welcome. Such collaborative interest and genuine enthusiasm rubs off more than you might think!
For many, these face-to-face meetings represent the first between parents, teachers, and administrators. Sorting out names and remembering who's who reminds us of another integral part of school classrooms and offices: the Name Plate Holder. Especially Desk Name Plate Holders.
New NPBR, NPA, and NPAA Desk Name Plate Holders make fine options as part of American Education Week tributes or simple upgrades. Colored border options accentuate the front acrylic face, drawing attention to name and title inserts. Slant back, stand-up, and sloped designs lend distinction in a choice of styles, including Name Plate Holders with Black or Silver borders.
Free perforated card stock is also included with select orders for in-house insert printing…a cost-effective alternative helpful to tight budgets.
As mentioned earlier, American Education Week started in 1921. After World War One, it was learned that 25% of drafted young men were illiterate and 29% unfit. Thus began the nationwide movement to bolster both literacy and physical education, 98 years ago!