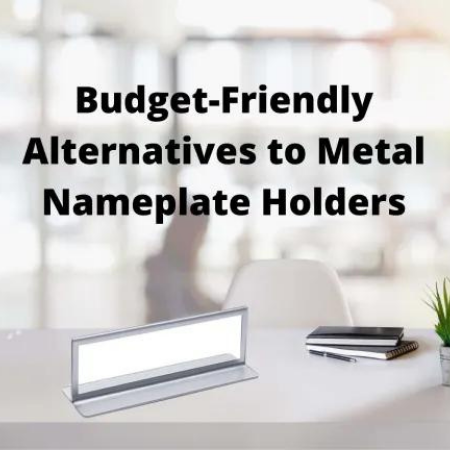 Budget-Friendly Alternatives to Metal Nameplate Holders
Did you know that the first evidence of human engraving dates as far back as 540,000 years ago? Chiseled shells were found with patterns intact in Java, Indonesia. Fast forward through the Paleolithic Era and Metal Age to the present, where computer-aided engraving does the work at high speed.
Before the development of Acrylic Nameplate Holders, specially engraved Metal Nameplate Holders were standard in offices. Not so much anymore. Shifting work environments and a changing workforce have modified the demand in Office Nameplate Holders for the clear qualities of premium thickness acrylic.
There are plenty of reasons to explain the shift. Acrylic Nameplate Holders are much more budget-friendly than metal. Sturdy acrylic stands up to hard knocks over time. And because you can print your own personalized inserts, the actual Cubicle Nameplate Holders and Desk Nameplate Holders themselves are re-usable. That alone makes Acrylic Nameplate Holders a wiser investment for long-term use.
As for aesthetic appeal, new acrylic features a clean, modern look. Cubicle Nameplate Holders, for example, deliver an eye-catching spotlight for name and title inserts. They fit securely on top of partition walls, straight out of the box upon delivery.
Acrylic Desk Nameplate Holders also draw the eye with expressed clarity. In the past, metal nameplate holders typically occupied desk and counter surfaces, requiring specially engraved nameplates that could take weeks to arrive. With Plastic Products Mfg., convenient, faster, more cost-effective display options are immediately available.
Here's one reason why. Inserts for clear Acrylic Nameplate Holders are super-easy to customize and print on-site. You and your staff can personalize name/title inserts with DIY printing, right at your fingertips. They look great and there's no waiting! Another sweet bonus that saves a few more bucks? Your Acrylic Nameplate Holder order could qualify for FREE heavy-gauge card stock…included just for in-house printing!