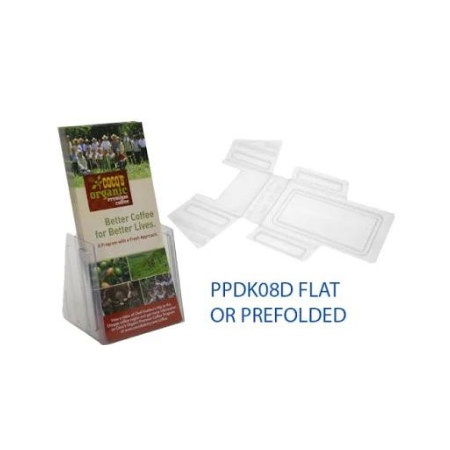 Brochure Holder Economy Tri Flat is Plastic Products Manufacturing new release
Lighter, less expensive brochure holders for literature display expected to deliver big market results
Plastic Products Manufacturing (PPM) has announced the release of an innovative new Econo-Boost Trifold display called the Tri Flat Economy Brochure Holder. Lighter and less expensive than previous styles, the Tri Flat captures both the flexibility and toughness of acrylic in one superior display, another in a long line of R&D achievements at PPM.
Geared specifically for counter top use, the Tri Flat has been designed to accommodate a variety of materials with dimensions of 4-1/8" Wide x 7-1/2" High x 1-1/2" Deep. With an overall depth of 3-1/2" from Front to Back, the Tri Flat checks in at a sturdy .025" thick. Yet it ships flat, which reduces shipping bulk and consequently, shipping costs. At the user end, the Tri Flat arrives as a singular flat unit that easily folds into an elegant yet economical counter top display – exhibiting the flexible properties of acrylic as well as its durability and cost-effectiveness. For those who would prefer this style ready for use straight out of the box, PPM will also ship the Tri Flat pre-folded with no assembly required.
"The Tri Flat is something we're very excited about," said William Saunders, President of PPM. "We wanted to develop a counter top display for our customers that is even more affordable, yet doesn't sacrifice quality or the attributes that have made our product line so successful over the years."
Indeed, this new Tri Flat Economy Brochure Holder appears ready to take the market by storm. The sales staff at PPM is also offering free samples upon request to not only increase product interest, but also to show how quickly and easily it can be put to use. Accommodating brochures and print material up to 4" wide, big results are expected from PPM's Tri Flat.
For more information about these economy brochure holders, PPM and insight into these upcoming new developments, please visit http://www.plasticproductsmfg.com