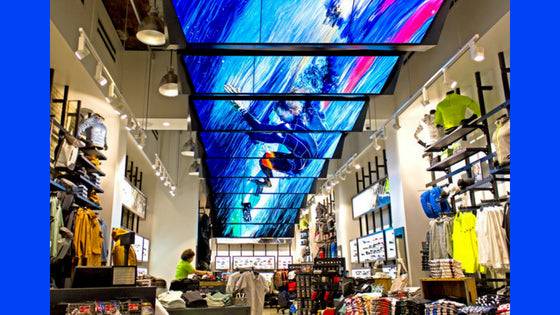 Blending Digital Displays in a Retail Environment
As the world becomes increasingly digital at a dizzying pace, those who once forecast the doom of retail brick-n-mortar stores are reconsidering their gloomy opinions. TotalRetail's recent article "A Case for Next-Gen Digital Executions In-Store" by Trey Courtney points to a reverse trend: digital-only retailers building physical storefronts.
Courtney makes a compelling case as a growing number of Gen Z'ers become decision-making consumers, "a generation that has never known a world without the internet or cell phones." It's an important consideration as retailers sharpen their edge to keep pace with changing consumer habits.
What sets the new digital-retail purveyor apart? Video Wall technology is changing the view for window shoppers. Digital Signage gives retail operators easily customized options in messaging and the ability to update ads on the fly. And Interactive Touch Screens are also part of a revolution, giving shoppers convenient control of purchases and order fulfillment.
This interactive approach is a comfortable one for a burgeoning "touch screen" purchasing demographic. Making it apply in-store can be truly profitable and attracting foot traffic to interactive kiosks opens new opportunities in presentation.
One effective idea revolves around eye-catching Custom Acrylic Tablet Displays. If you are incorporating a technological upgrade in your retail establishment, using acrylic supports a modern look that invites point-of-purchase interaction. Give your customer the controls and let them steer their own buying experience in a free-standing unit or custom kiosk.
Acrylic Tablet Holder displays complement other technological touches like updated digital signage promotions…real-time advertising and instant results. Measuring analytics also goes hand-in-hand with digital upgrades. Determining trends and buying patterns can be broken down by numbers with hard data to back 'em up. What products sell best in certain parts of the month, week, or even day? This kind of information access is now available!
Consider your floor layout and imagine the possibilities. Adding Acrylic Tablet Holders to your custom digital-retail shopping environment can not only boost sales, they can add nice aesthetic appeal, too!