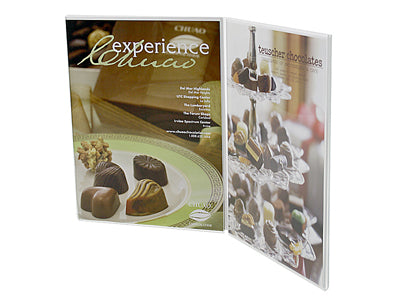 Are Brochure Holders and Sign Holders profitable?
Before I answer your question, ask yourself this: "Do you want your sales to grow?"  Statistics show an increase in sales when informative content is shown with the use of promotional displays. In fact, according to a survey from PPAI.org, 83% of American consumers surveyed respond positively to promotional displays and the messages they advertise.  And 69% said they would pick up a promotional brochure if they found it to be useful. So the answer is YES…promoting with brochure holders, sign holders, poster holders, stand displays and table signs are profitable.
Supercharge your Promotional Products
The first thing you want to think about is maximizing promotional displays more effectively with eye catching graphics, images and design. The best marketing should not emphasize the features of a product as much as the benefits. Using informative, eye-appealing content will be the most effective way to attract qualified buyers and create leads. Well-designed informative brochures instantly draw traffic and turn your leads into customers. A helpful and creative brochure will create the traffic your company needs, helping spotlight your latest promotions and raise awareness. Studies have shown that Brochure Holders are the most Cost Effective Advertising Strategy!
Research Results show an Increase in ROI

TYPES OF PROMOTIONAL  DISPLAYS 

SALES INCREASE %

Brochures Holders 

82

Display Stands

67

Sign Holders 

62

Table Signs 

75
Effective Brochure
An effective brochure with helpful content allows you to communicate directly with a prospective customer. Focusing on content that includes four key benefits of your product or service and adding great graphics and quality images will surely be a head turner. Another important key factor is showcasing your USP (unique selling point) effectively to help differentiate you from your competitors, letting customers know why you are better and why they should choose your company over the competition. Some people prefer technical details of your products and services, but the majority will more likely be persuaded by the heading and information on what your company has to offer them…not the technology used in production or direct selling pitch. People want to know how you can help them solve their problems.
Takeaways
Here are some questions to ask yourself when creating your brochures and promotional advertising. "What purpose do they think your company serves them? What message do you want to deliver? And what type of promotional displays are best to use…Brochure Holders? Sign Holders? Poster Holders? Picture Frames?These are crucial questions you need to know and understand as the answers will have a dramatic impact on your ROI.  When your marketing isn't working and your sales force has hit the wall, it's time to rethink the way you attack sales and marketing. It's time to get innovative and propel your company as a trendsetter to stay competitive.