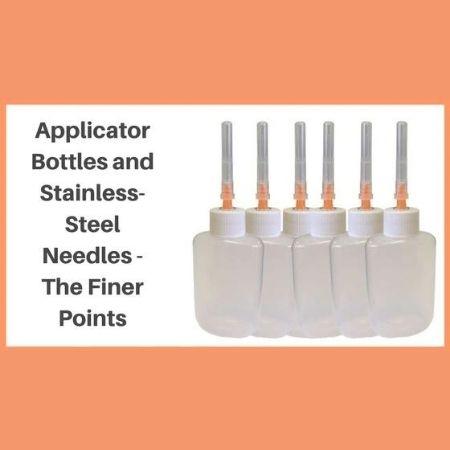 Applicator Bottles and Stainless-Steel Needles – The Finer Points
Did you ever build model planes as a kid? Are you artistically inclined with mixed media? Do you like to tackle DIY projects? Chances are, you've had experience with fine applications and needle-perfect precision. We're talking about those Applicator Bottles and Stainless-Steel Needles, used in everything from hobbies and model building to mechanical work on cars and boats, lubrication and detailed painting, and fixing acrylic fish tanks.
It takes more than a steady hand to apply liquid glass paints in fine lines. For instance, there are several degrees of needle sizes and gauges, appropriate for different viscosities in thin liquids, solvents, paints, cement, and heavier weight grease.
If you operate a business that uses or sells Applicator Bottles and Caps with Stainless-Steel Needles, you may have already discovered an unlikely variety of precision application requirements. Hard-to-reach parts of machinery call for Extra Long Stainless-Steel Needles. Gauge choices depend on the material being transferred.
Finer solutions and applications for high tech firms, beauty shops, and arts-and-crafts purveyors may need to focus more on needle gauge than length. Disbursing liquids with fine or even ultrafine applicators? Just remember that the higher the number, the thinner the needle. Our range extends from 14 to 27-gauge, and substances like thicker glues that tend to clog are best administered on the lower end of the spectrum.
Non-clogging water-based adhesives, acrylics, watercolors, inks, stains, oil paints, and glazes? Shoot for 18 or 20-gauge. Thin liquids and glues for quilling can also be ideal in this range. In case you're not acquainted with quilling, devoted hobbyists will tell you that it's a decorative art form where strips of paper are rolled, shaped, curled, twisted, and – yes – glued into unique shapes. A dedicated quiller might also tell you that color-coded Caps on Applicator Bottles are extremely helpful.
We can help you stock up on just the Applicator Bottles and Caps WITHOUT the Needles, quilling or not. If you're still not sure what sizes and gauges are best, just ask us!