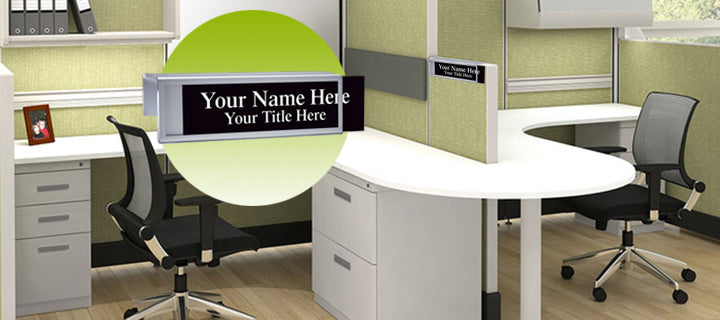 Amazing Office Name Plate Holders and their many Wonderful Benefits
It might not be the first item on your list of workplace accessories or interior office décor items. Yet, the traditional Name Plate Holder delivers a uniquely vital function that nothing else can. In fact, Office Nameplates are also taking on a new look to keep pace with today's changing work environment…and the benefits are many!
Why is the Office Nameplate Holder so important? For one thing, it serves as the standout spotlight for personnel identification. Each Name Plate is the one personal identifier that gives employees a sense of identity. It might seem like a small token, but the Name Plate also gives the individual a sense of belonging within a larger family.
In a busy office, the Name Plate Holder as a People Spotter also helps with office navigation, especially in sectors frequented by unfamiliar foot traffic. To the uninitiated, a maze of cubicles can be daunting. Using dynamic Cubicle Name Plate Holders adds clear, distinctive visibility and diminishes bewildered confusion.
Beyond the individual workstation, Office Name Plate Holders add aesthetic appeal and organization to a company's overall appearance. Plain and simple, neatness makes an impression on visitors. Name Plate Holder People Spotters not only define individual workstations, they create a more uniformly designed office in general.
One more benefit of Name Plate Holders? Longevity. Tough, premium thickness acrylic is a fine investment because it virtually lasts forever, standing up to re-use and relocation. This is a key factor when personnel changes, transfers, and gets promoted.
As for those eye-catching new looks? Colored Border Cubicle Name Plate Holders are a prime example. Bold color options are taking that traditional look to brighter new levels in silver, black, bronze, and white.  Select orders also come with free card stock for do-it-yourself inserts to match easy installation of the Name Plate Holder itself – no tools required!
In addition to cubicle styles, Desktop and Wall-Mount Name Plate Holders are also hitting high marks in today's modern office. Click a few pix and see for yourself!