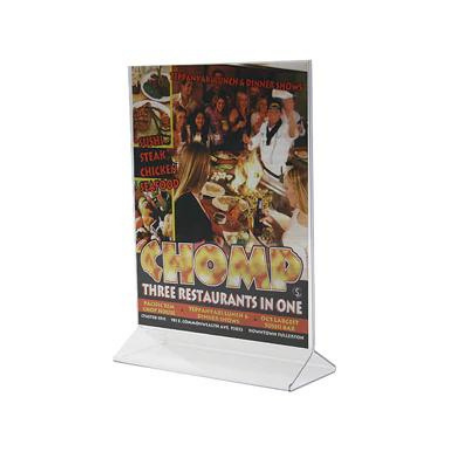 Acrylic Display Stands and Menu Holders: Eat with your Eyes and Watch Sales Sizzle
     No doubt you've heard this one before: people eat with their eyes before they take their first bite.  Whether you buy the theory or not, it's hard to argue.  When the stomach is growling or you have a hankering for something really delicious in particular, there's no denying the craving. 
     Of course, this concept's not lost anywhere in the food industry.  Restaurants, grocers, food producers and packagers, distributors, the dramatically increased popularity of TV cooking shows, and the growing reach of "foodie" magazines…all rely heavily on visual presentation as their hook.  Food imagery in still photos and TV is now an advertising art form in and of itself.  The reason?  It all goes back to the eyes.  See it, crave it, buy it, eat it.  Repeat.  
     It's a simple formula and in the food world, suggestive selling has a way of producing immediate results and success.  But as kitchen competitions get hotter, the right displays can make or break that nightly special.  Capturing a strong customer share and profit-building are directly reflected in the ways your presentations are displayed.
     When taking a seat at a food service establishment – even before the wait staff takes your drink order – the first thing customers notice more often are Tabletop / Counter top Sign Holders, preferably acrylic display stands that place an added spotlight on the restaurant's highlighted offerings.  Let the suggestive selling begin.  A Straight-Up Vertical Sign Holder display standing on a triangular base showing off steak and lobster on one side and a 2-for-1 Margarita special on the other?  Think that visual appeal won't send an instant message to a hungry and thirsty group just sitting down?  Crystal clear acuity with enhanced elegance and class adds to customer curiosity…and adds to their orders, too!
  The styles and attributes found in a variety of popular displays and menu holders also take on different functions and appearances to best suit the ambience.  Vertical menu holders, for example, are geared for use on bars and tabletops…a sloped base allows for custom imprinting, a nice little added touch.  The ½" to ¾" space between the uprights provides ideal room for reading material.  
     When the joint is jumpin' with heavy foot traffic and an occasionally misguided elbow, durability is also a factor in well-constructed sign holders and acrylic sign displays.  This just might be the right environment for rough-n-tumble Plexiglass Sign Holders…durable, economical, impact resistant vertical displays that are functional yet elegant.  Plexiglass, like the other sign display styles mentioned here, also load quickly and easily from the top.  When the need arises to "86" an advertised special, even the busiest staff will be able to quickly replace flier displays with newer, fresher replacement slicks in no time flat.   
     So here we've been talking about food and drinks…two sure-fire subjects that appeal to just about any living, breathing person…and how to present hot sellers in the food and beverage business arena.  But food service establishments are NOT the only places to benefit from acrylic display stands and sign holders.  Some dynamic new designs geared for office and retail countertops have also earned a niche in the display of two-sided brochures and glossies in the spotlight.  Swivel base display stands invite curious eyes to the glass green frame, which can be manually rotated for viewing from either side while the satin metal base remains stationary.  Swivel stands practically invite human interaction and with this display, printed copy slides in easily from the top or sides.
  Oval based store displays also lend an element of class, especially on retail countertops.  The oval base can be clear or black, presenting options when determining the best look for your campaign.  Promoting a sparkling piece of jewelry?  The black base could be just the right accent for this store display.
     Countertops, tabletops, showcases…double-sided acrylic display stands, sign holders, menu holders, oval based and retail displays definitely make a difference.  Put them to the test and check the results for yourself.  The chances are great that your popularity will rise and so will your profits!   
Visit http://www.plasticproductsmfg.com for additional information