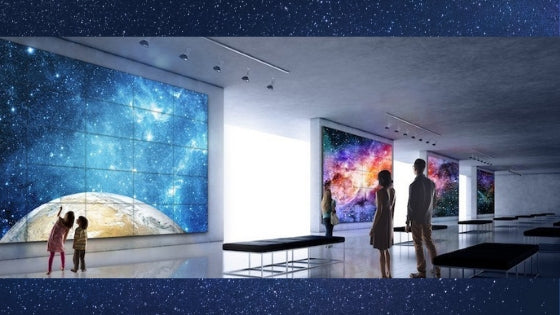 A Sign Holder/Signage Celebration at the March Digital Signage Expo
An explosion of digital signage continues to transform the business world with real-time pronouncements, accentuated branding, and multisensory experiences geared to captivate an audience. The latest will be prominently displayed March 26th through 29th at the Digital Signage Expo (DSE) at the Las Vegas Convention Center.
In addition to new technological innovations, DSE will also spotlight ways to use digital signage to the sharpest advantage, including workshops on video board content creation. Virtual Reality should also be a draw to the new multimedia, multisensory "eXperiential showcase" with VR Artist Anna Solomko. Part of this demonstration will focus on fusing immersive, interactive technology with traditional screens and displays, "transforming a physical space into a full-on engaged experience."
In a nutshell, this is the crux of DSE. The ability to control real-time messaging and deliver multisensory experiences can be a powerful tool in driving sales with immediate results. That could also explain why some big "users" will be on hand, from Disney to In-N-Out Burger. Fast food to amusement parks…banks, grocery chains, airlines, pharmacies, retailers…any environment where an immediate call-to-action results in a sale can benefit.
The stakes? Grand View Research predicts that revenue from digital signage will exceed $20 billion with "a recall rate higher than any other form of traditional media (83%)." If the numbers pan out, the profit potential is hard to ignore.
Also pivotal to the movement? Displays that point attentive eyes to the message and engage interaction with customers. More and more, kiosks are popping up at the point-of-sale and in strategically placed retail floor locations. Custom Acrylic Tablet Displays are also there to accent signage with broad appeal. Add Clear Acrylic Sign Holders as a complement to combine modern and traditional signage approaches.
The best place to see and feel what your customers can experience? Just might be the Vegas DSE, the place to be in March!