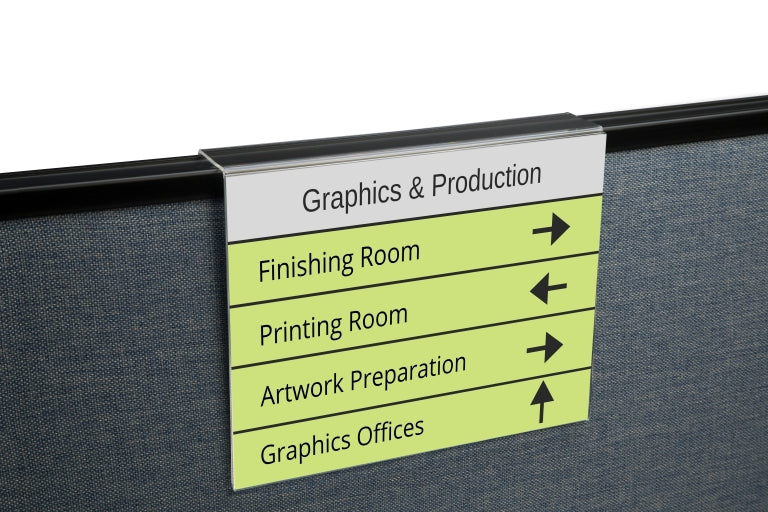 Trending Back-to-Office Workplace Essentials from Business Card Holders to Wall Nameplate Holders
As the pandemic recovery continues, worker migration back to the office is gaining momentum as well. And wherever new office dynamics take shape, demand for new office supplies will surely follow.
A recent article in Rolling Stone detailed a Top 10 list of office essential items, like UV phone sanitizers and small but powerful portable air purifiers that cleanse and detoxify immediate surroundings. Number One on that list? Business cards.
With business cards that high on the list, a perfect display is needed to showcase and complement them. Acrylic Business Card Holders draw the eye and help break the ice with new faces in the workplace. Whether printed externally or in-house, the Acrylic Business Card Holder is available in the most popular card sizes.
Another byproduct of the post-COVID office? Healthier workspaces are shifting from communal open-floor layouts to partitions and the return of the cubicle. The transition back to cubicles has created a significant new demand for eye-catching Cubicle Nameplate Holders and Sign Holders. Staying ahead of the trend, Plastic Products Mfg is well-positioned to answer the call for increasing requests in Acrylic Cubicle Nameplate Holders.
In addition to unique colored-border options, premium thickness Acrylic Cubicle Sign Holders also grab attention with wayfinding signage. It's an excellent option for guidance with increased foot traffic, especially where interior directions may have changed and new hires are still getting acquainted.
While taking stock of office supply needs, you can also make ordering more efficient with two more essentials. Desk Nameplate Holders for a personal touch. And Wall Nameplate Holders that install easily and strategically at eye level. Paired with Cubicle Wayfinding Sign Holders, you can more easily point the way for increasing foot traffic.
Curious what else is on the Rolling Stone list of office essentials? Device charging pads, earbuds, and "Honest" sanitizing wipes. Ergonomic chair cushions and standing desks, too. Another great spot for an Acrylic Desk Nameplate Holder.