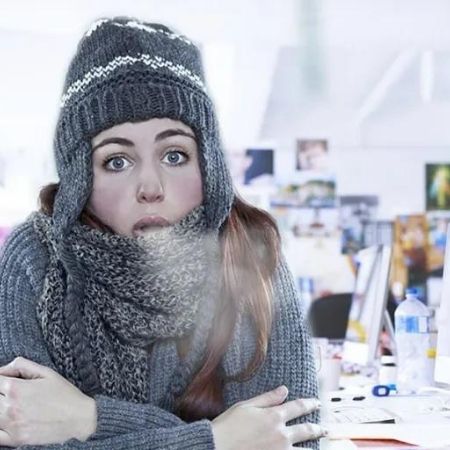 Cubicle Must-Haves to Stay Warm this Winter
Cubicles are making a big comeback in office layouts. And right alongside their return comes one chilly challenge: how to stay warm in them! Of course, a significant portion of the workforce has experienced serious disruption due to the pandemic, and even prior to COVID, open-floor workplaces were more in vogue. So we thought perhaps a little refresher on cubicle "must-haves" is in order!
First, the issue of indoor air quality. Schools, facility managers, and office bosses have been making upgrades in HVAC systems and air purification for obvious health reasons. According to the EPA, most Americans spend up to 90% of their time indoors…a good portion during working hours. Diminishing risk of illness and making air more breathable is essential. But that may not make it any warmer!
Office buildings are notoriously cool, especially where winter climate plunges into a deep freeze. With employee retention so prominent in the news lately, a Forbes study on employee well-being showed that 93% of tech industry workers listed health, wellness, and comfort among key reasons to stay with a company.
Comfortable workers are more productive, too. This winter, heated chairs and floor mats are back. New-style space heaters crank up the temperature in safer, more digitally effective units. It reminds us that Business Insider found "the freezing office" top complaint in workplace polls.
Besides electric blankets and personal heaters, you know what other hot sellers are popular in offices this winter? According to
Everlasting Comfort
, Memory Foam Seat Cushions, Essential Oil Diffusers, and, ironically, Ultrasonic Cool Mist Dehumidifiers! Go figure.
We have a few hot sellers for cubicles, too, adding to warmth in more stylish and functional ways. Our most popular Cubicle Nameplate Holders create a dynamic showcase for name and title inserts. Select minimum orders come with free heavy-gauge card stock for easy DIY insert printing. Polished edges with clearly defined borders provide a clear attraction. Non-Glare Cubicle Nameplate Holders deliver another more advanced option. Give new signage and information a proper spotlight with a new Cubicle Literature Holder. And when it's time to shed some stuff? Acrylic Cubicle Coat and Bag Hangers make it easy and convenient!